I'm probably sipping coffee researching how to better get you results.
Why am I so passionate about this? When I was on my own 20 pound weight loss journey, I learned that what I grew up believing about weight loss — eat less and exercise more — was dead wrong.
It hit me that over 95% of my physical therapy clients were overweight or obese. It's not that they hadn't tried ... they'd tried everything! They were confused, overwhelmed, and frankly, over it.
Unfortunately, the excess weight and inflammation had contributed to their illness. Excess weight is a risk factor for type 2 diabetes, heart disease, dementia, arthritis, and cancer. All the conditions I was passionate about preventing!
I've made it my mission to help you lose weight and keep it off to prevent disease. I don't want poor health to impact your mobility or independence down the road.
Consider me that encouraging voice in your head whispering, "You've got this! You can lose weight and keep it off. It's worth every ounce of effort. And your health depends on it."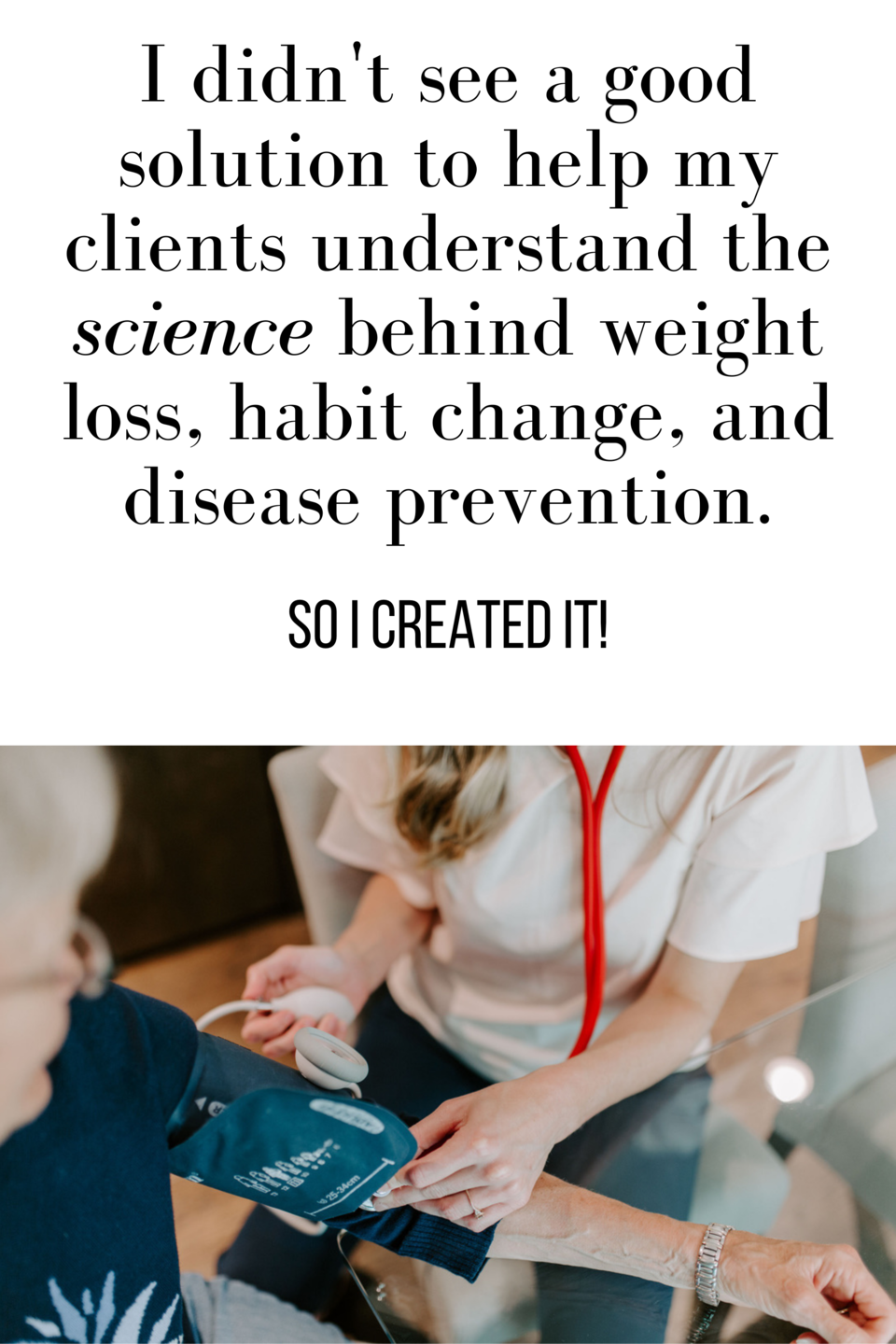 I believe once we understand how our lifestyle choices affect our long-term health, justifying bad habits becomes a lot harder.
There are plenty of diet plans. Weight Watchers. Jenny Craig. Optavia. Metabolic Research Center. Nutrisystem. You get the picture.
I don't teach you another diet. I teach you to have a diet. I teach you what your body actually needs to burn fat, build muscle, and boost your metabolism.
If you've spent years focusing on calories, wondering why you can't keep the weight off, it's because you've been focusing on lowering your calories, when you need to lower your insulin.
If you've been successful in losing weight but can't seem to keep it off, I can help with that, too.
I believe we all have the choice to invest our time, money, and energy on our health NOW ... or be willing to spend it on illness and injury in the FUTURE.
(*I don't know about you, but I'm up for doing everything in my power now to stay healthy, mobile, and independent so I can do alllll the things I need, want, and love to do in retirement!)
More Like Who!
See these two beautiful people? They, along with the rest of my grandparents, are my why. You don't learn patience, love, forgiveness, generosity, kindness, hospitality, and selflessness from books. You learn from people. (And how to properly make a bed, of course.)
— This next part is really important. If you're skimming, stop here!! —
My grandparents were a big part of my life ever since I was little and into adulthood because they were healthy enough to do so. I'm here to help you age well so you can serve and impact your loved ones without poor health holding you back.
I want you to be able to roll around on the floor, help with bath time, and give your kids a respite, simply because you have the physical ability to do so!
I want you to be able to hike, kayak, ski, and travel like you planned for your retirement because you are healthy and fit enough to enjoy all the experiences you've been putting off.
WILL I BELT JIMMY BUFFET? MAYBE.
My Favorite Things
Aside from classic Jimmy Buffet Songs, and my current favorite, Holy by Justin Bieber and Chance the Rapper (I know ... wide taste in music) here are some of the things I've come to love and recommend most often.
From books that have changed my life, to my healthy food pantry staples, tried-and-true cookware, cookbooks, and more. You'll find all my staple recommendations in one place.
Show Me!